Decorated porches (ganki)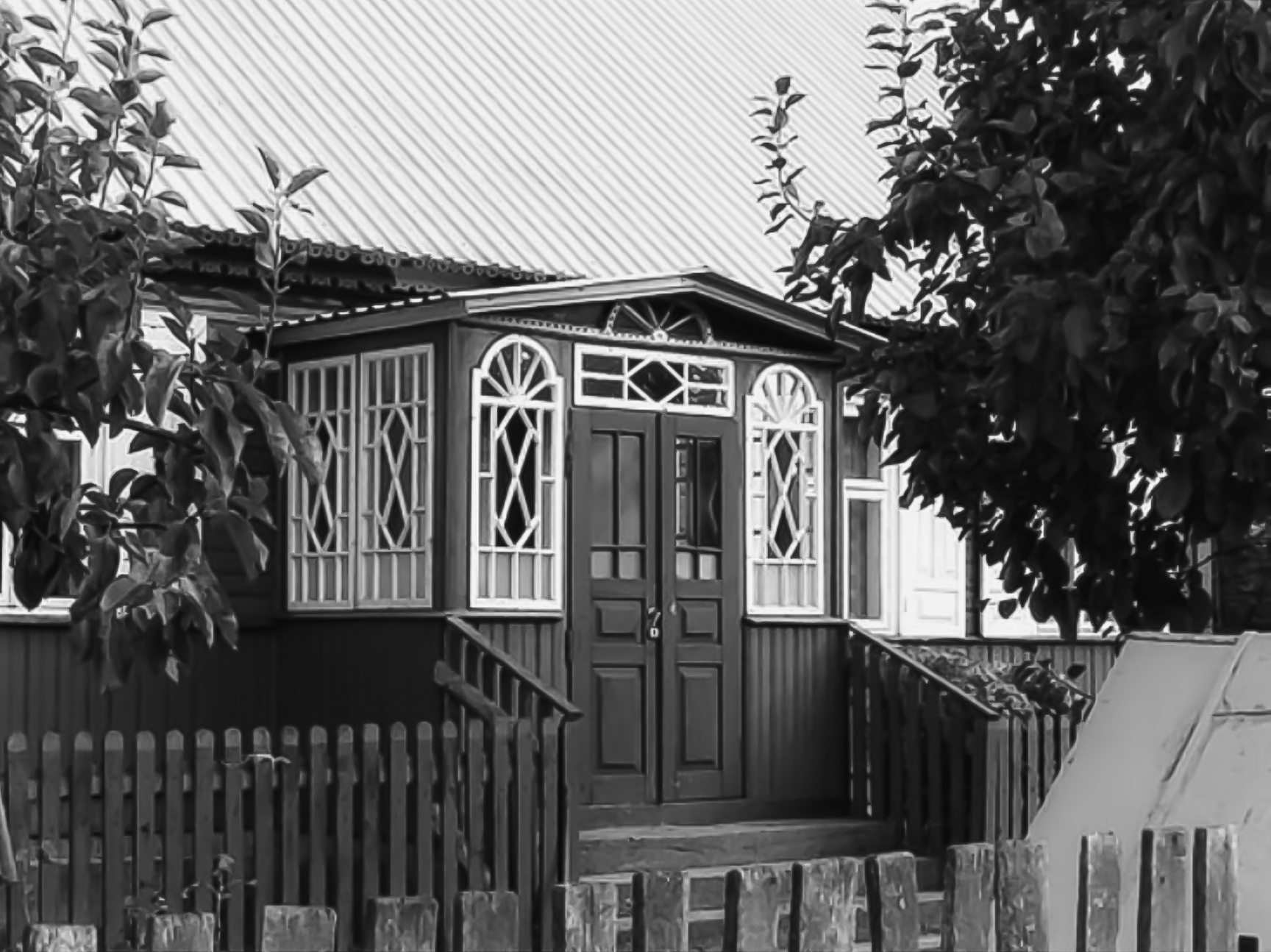 Front porches were the most elaborately decorated parts of traditional houses in the villages of Poland's Podlasie region.
These wooden structures usually faced the road and sheltered the dwelling's front door.
A richly ornamented entrance to a house was an indication of the owners' high social standing in the community.
That's why ganki usually featured extensive trimming, bold colors and even glass pane walls in the wealthier households.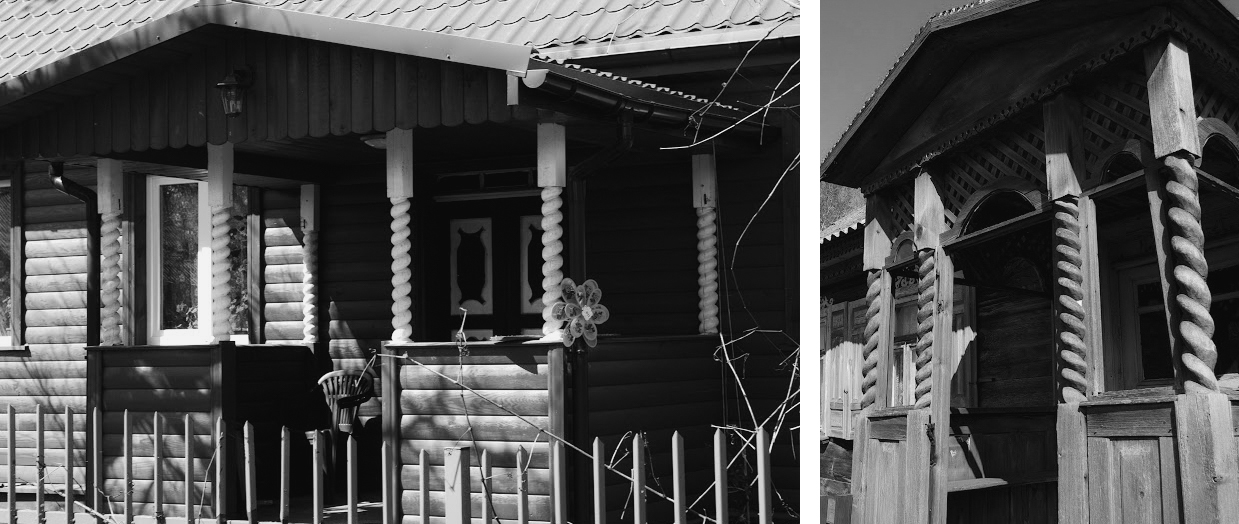 A typical Podlasie porch consisted of a simple gabled roof supported by either two or four columns which were often adorned with carved spiral decorations.
The porches also boasted wooden support elements with decorative floral and lattice-work designs which braced the roof and strengthen the entire structure.
Decorations were also applied to roof edges and pediments.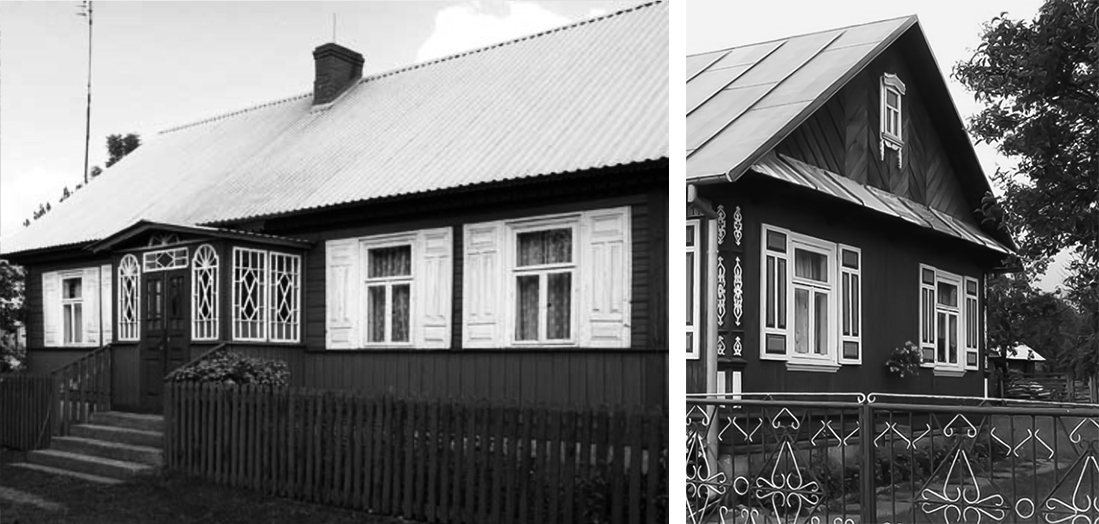 The traditional porch design evolved over time to accommodate new functions and decorations.
The simple roofs above dwelling entrances eventually began to include walls whose upper portions were made up of colorful cast-glass panes.
The most impressive of these enclosed porches had walls made of 300 or more glass panes arranged in decorative patters.
The enclosed porches began to function as additional rooms in houses and are referred to as werandy in Polish.
The elaborate wooden porches acted as a home's unique identifying feature
and their color schemes and ornamentation were distinct from the less extravagantly decorated main structure.
To this day, traditional porches (ganki) and werandy represent a unique element of Podlasie's cultural heritage
and serve as a testament to the local craftsmen's skill.
Werandy continue to function as additional living spaces and a literal "window on the world" for people living in traditional homes.
A glass-enclosed porch gives residents a chance to soak in the sunlight and enjoy views of nature which surrounds their houses.
Recently, a new wrinkle on this traditional design has appeared: using enclosed porches to bring nature into homes.

Architects from Denmark's Human Habitat collective have been building wood
and glass structures made from reused materials that are inspired by traditional enclosed porches but have modern functions and design.
Their IMPACT FARM project is a two-storey enclosed porch/greenhouse dedicated to sustainable and efficient urban farming which provides fresh produce for city dwellers.
It is the world's first modular vertical urban agriculture center designed to be easily disassembled and reused in different locations.
IMPACT FARM is yet another example of how a blend of traditional ideas and modern design can be an answer to many of the pressing challenges facing the world.
CREDITS
Photo: Artur Gaweł, Mirosław Stepaniuk ,,Zdobnictwo Drewnianych Budynków Mieszkalnych"
Domowo I.W. ,,Zdobnictwo domów na Podlasiu"
Human Habitat, www.humanhabitat.dk , @human_habitat_cph